Below and on the next page is a brief explanation of most of the common types of survey services we provide. We provide
property boundary surveys
, property line adjustment surveys, foundation surveys, flood elevation certificates, ALTA/ACSM Land Title surveys, partition plats, subdivision plats, topographic design surveys, construction staking boundary disputes and court testimony.
CONDOMINIUM PLATS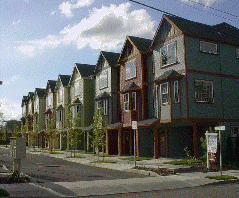 PARTITION AND SUBDIVISION PLATS
Partition Plats (3 lots or less) and Subdivion Plats (4 lots or more) are the tradition means of subdividing property. We provide planning and application services on partition plats and the smaller type 1 subdivision plats. If your plat is larger, the services of a professional planner, civil engineer and other design professionals are required. We provide all of the preliminary plat mapping, final plat mapping, the staking of the lot corners, and construction staking of any improvements.
BOUNDARY AND TOPOGRAPHIC DESIGN SURVEY
A boundary and topographic
survey
is provided as base mapping for an engineer, architect or other design professional to develop plans for a proposed building or land development project. Depending on the needs of the project, the survey typically provides the location of all existing conditions of the property including contour lines, elevations, natural features, trees, utility services, street information and the property boundary lines. Easements, encroachments or other encumbrances are also typically shown on the
survey
.
LAND SURVEYORS
ALTA/ACSM Land Title Surveys

Condominium Plats

Construction Staking

Flood Elevation Certificates

Foundation Surveys

Partition Plats

Property Boundary Surveys

Property Line Adjustments

Subdivision Plats

Topographic Design Surveys
A condominium plat is one of the most common surveys we provide. We have a thourough understanding of the rules and regulations to provide a condominium plat and have been providing this service since 1972. We work well with the local agencies, attorneys and clients to produce a plat that will record in a timely manner and be cost effective.
A condominium plat is a means by which a person can purchase a home and share land ownership and other common elements. The plat provides detailed as-constructed measurements of the building, dwelling units, parking spaces and other items exclusive to a unit. The plat is prepared in conjunction with the declaration, which is provided by an attorney.